The Fool 2 December 2010
It was a cold day. A very cold day. Me and my friends arrived there at 3 o'clock. There already were some people who were waiting for the band. They had been sitting there from 7.30 am. They are crazy it was -7 celsiuis degree. We waited there for like 10 minutes and decided to go somewhere and enjoy a c up of hot chocolade, walk around the mall. we wanted to keep ourselfs warm. When it was 5 pm I started to get really nervouse. I had 30 minutes before i could go inside and intervieuw the band. God I was so nervouse when it was the time a friend of mine and I got inside. they were doing there soundcheck. we were like we are going to see them doing there soundcheck. They were standing there in there normal clothing without make up. 30 minutes later we were brought towards there dressingroom so we could do the intervieuw. I had been to a concert of The Fool before. I walked inside and Gunji (vocalist) Looked at me and my friend and was like. "I know you." I found that kind of funny. I took the intervieuw and was slowly calming down. Before the concert started me and Vera decided where we wanted to stand while the concert was going on. We decided to stand infront of Gunji. The doors went openen and people started to run inside. after 5 minutes my friends came running inside and joined me and Vera.
They had a support band playing first. Guren. A band from Belgium. They were good but not good enough to buy a cd or go to a concert of them.
Then The Fool came on stage. everybody screamed. Gunji stood infront of us and started to sing. after a few songs and bend down infront of me reached his hand out strailing my face. I was like 0_0 fans around my glared at me. Why would he do it to me and not to them. One of my friends sighed and said. 'God now she's never going to stop talking about him.' Then again a few songs later he did it again. KYA!!!!! He also decided to do some stagediving. I had to help him on the stage two times and got again parts in my face. Well I love his, much better then Yuki's (vocalist Unsraw) You bet you know this, when an artist is coming closer to the audiance the fans want to touch them. It was a hell!!! He was standing infront of me and people started to push, well my head was close to his ...... if you know what I mean. I was like I was hugging his legs. I am kind of leg addict and Sophie said I had to cling to his leg. XD
After the concert there was a signingsession and a photosession. Me and my friends joined the line. Once standing infront of them. They sighned the cd and shook my hands. When I was infront of Gunji and looked him right in the eye and told him that the concert was great and that I loved it. Gunji smiled at me and told me this "And everything about you is great!!" man I guess my face was kinda red at that moment.
After like 20 minutes the sighning session was done and you could take the photo's. Once it was my turn I sat down beside Taca and we took the photo. After the photo the band would give you a hug as a thank you. Once Gunji hugged me, he grabbed my face and gave me a kiss on my cheek. I think I could melt right there infront of there eyes. Man this was the best day of my life!!!!!!!!!!!!!!!
Gunji at the Signingsession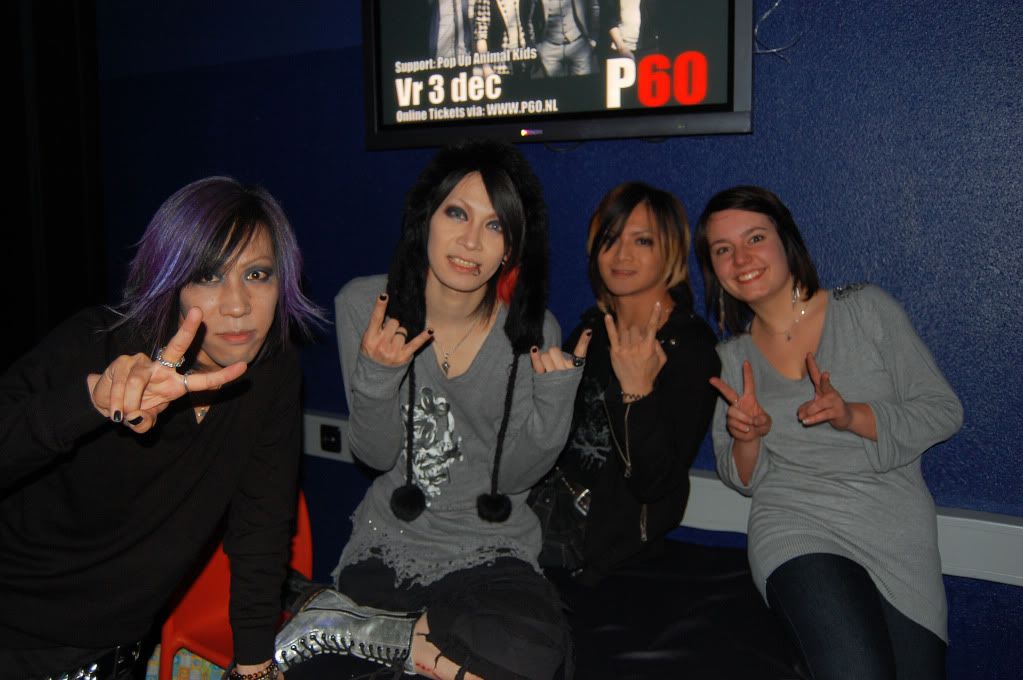 Me and The Fool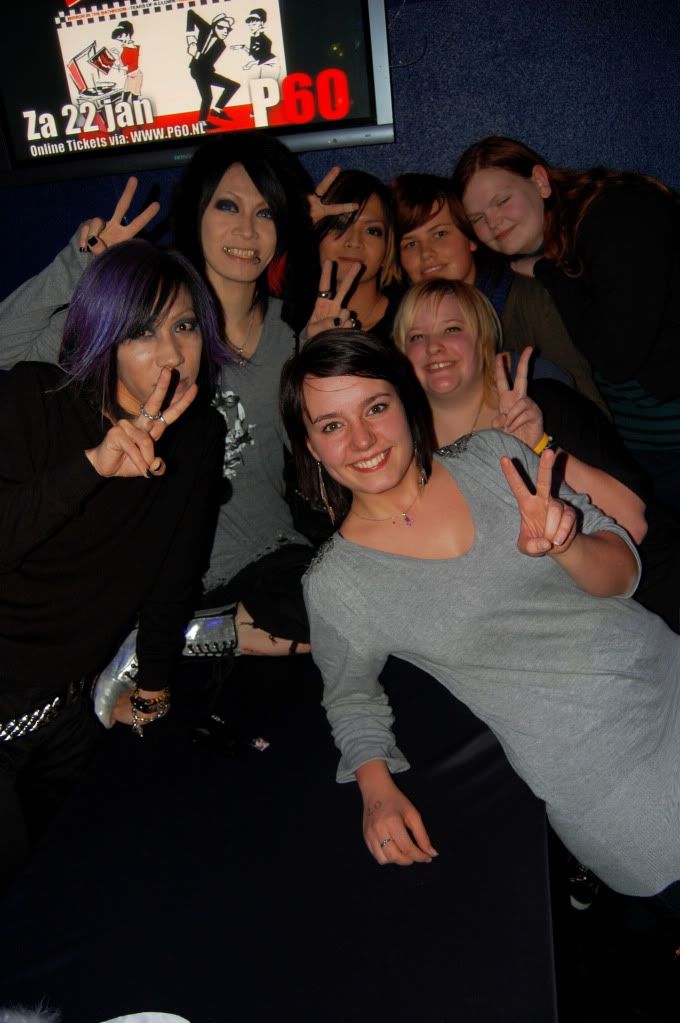 The Fool + me + Friends
25 Januari 2011 -OZ- + Signing session // 19 Marche 2011 - Girugamesh